Copy Ai Review – Pros, Cons & Free Trial
You could have a fantastic product or service, but if your sales page doesn't present it with great sales copy, conversion rates decrease. Hiring a copywriter can cost businesses up to $45 an hour,
To get more out of your investment, use an AI writing tool like Copy Ai. It helps you write better sales and marketing copy quickly. There's a total of 103 templates which cover a wide range of uses, like website copy, email copy, brainstorming tools and more!
In this review, I'll cover pros, cons, key features, and pricing plans for Copy Ai, so you can decide if it's right for you.
Disclosure : I may receive affiliate compensation for links posted here, at no cost to you if you decide to purchase something.
What is Copy Ai?
CopyAi is a AI copywriting tool that helps users generate marketing and sales copy. It supports a total of 25+ languages. The user interface is easy to use, and the price is very affordable. CopyAi also offers unlimited credits, so you can create copy without worrying about credit limits.
How does Copy Ai work?
Copy Ai is a AI writing tool that uses GPT3 technology to generate marketing, ad and sales copy. GPT3 is the latest AI algorithm for natural language, and has been trained on 10% of the internet. This allows it to generate copy that sounds like a human.
Pros of Copy Ai
User-friendly and fun to use
Unlimited credits for a affordable monthly price
Generate marketing copy, web copy and sales copy quickly
8 proven sales copywriting templates
Cons of Copy Ai
Not the best tool for long form content above 1000 words and above
Does not have SEO integration
Copy Ai Key Features
Blog Tools
Blog Ideas
Copy Ai helps generate blog ideas for your content marketing strategy.
Above example is how I used the input template, I included the brand name and a short product description. I can also customise my results according to tone of voice to fit my audience. Lastly, I clicked on create copy and it generated outputs in seconds.
Bullet Point to Blog Section
Having writer's block? Bullet Point to Paragraph allows you to create paragraphs from a single bullet point with the click of a button. This is great for short form blog content and articles.
Digital Ad Copy Generator
Facebook Primary Text
Facebook Primary Text allows you to write high-quality, engaging content for your social media posts quickly and easily. It helps you create content that is both informative and interesting, so you can keep your followers engaged and click through your ads.
Instagram Captions
Copy Ai is a great tool for creating creative Instagram captions. It helps you come up with funny, interesting, and original captions for your social media posts.
Product Descriptions
Selling a product or service and need to write attractive sales copy? Use product descriptions to come up with value propositions that are both accurate and appealing to your target market.
Website Copy
Landing page hero text
Copy Ai is a great tool for creating landing page hero text. It helps you come up with catchy, attention-grabbing headlines that will encourage visitors to find out more about your offer.
Meta descriptions
A good meta description communicate benefits and appeals to emotions. Copy Ai can help you easily create meta descriptions for your website to help increase click through rates.
First Impressions
As soon as I downloaded Copy Ai, I was impressed by how easy it was to pick up how to use the software. There are step-by-step instructions for each template, so you can create high-quality content quickly and easily. You don't need any prior experience or expertise to use this software. I also liked the fact that it had unlimited credits, so I could generate as much content as I wanted.
My Experience with Copy Ai
I used Copy Ai for a little under three weeks before writing this review. I liked that it was easy to navigate, store your outputs, and create projects (similar to folders). It took me less than 30 minutes to figure out how to use the software.
If you're a freelance writer looking for an Ai copywriting tool to create long form content, I would not recommend Copy Ai. The software is designed for creating high-quality content quickly and easily, and it's perfect for creating short, engaging writing. I find it most suitable for entrepreneurs, content creators and social media managers.
Pricing
$0/month for free plan
$35/month for pro plan
Copy Ai Free Trial
Copy Ai has a free trial, which allows users to test the software. The free trial includes 10 credits every month, which is enough to generate up to 10 pieces of marketing or sales copy.
Copy Ai Review Conclusion
If you're looking for an easy to use software that can help you create high-quality content quickly and easily, Copy Ai is the tool for you. The social media tools are also great for content creation, to help brainstorm new ideas for your Youtube or TikTok video. I like the straightforward plan with unlimited credits and an affordable price tag.
Overall, I was very pleased with the results I achieved using Copy Ai. I would recommend it for anyone looking for an affordable ai copywriting tool to generate blog content, website copy and other short form copy.
Copy Ai Alternatives
Looking for an alternative to Copy Ai? Here are some of the best Copy ai alternatives available in the market today for different use cases. If you need more options, also check out my best AI copywriting tools guide!
Jasper Ai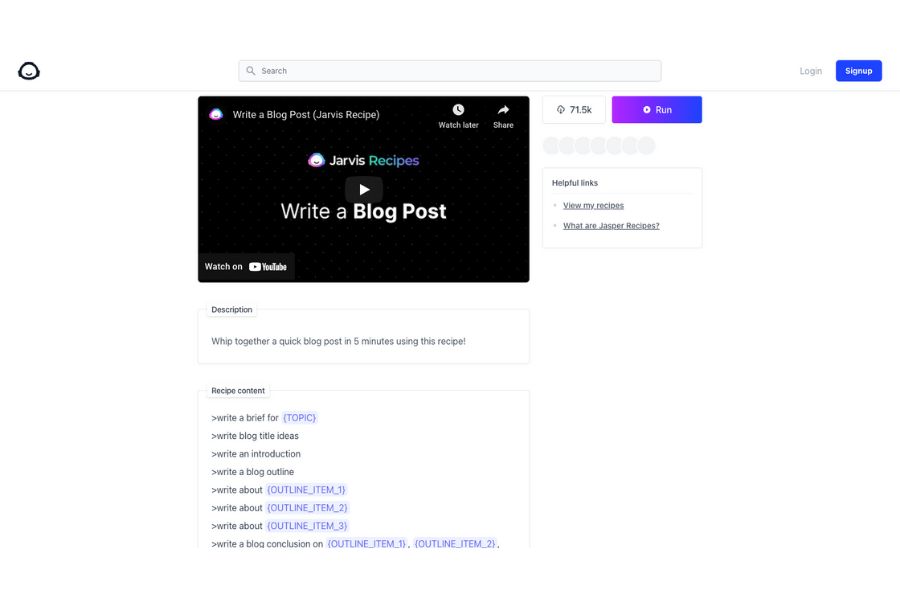 Jasper Ai is an AI copywriting tool that I recommend for freelance content writers, and bloggers who need to create long form blog posts quickly and easily. Jasper Ai has a key feature called Recipes that follows an automated workflow that is great for long form content creation using a step by step command flow.
You can check out my Jasper Ai Review for a full overview of the software features.
Copysmith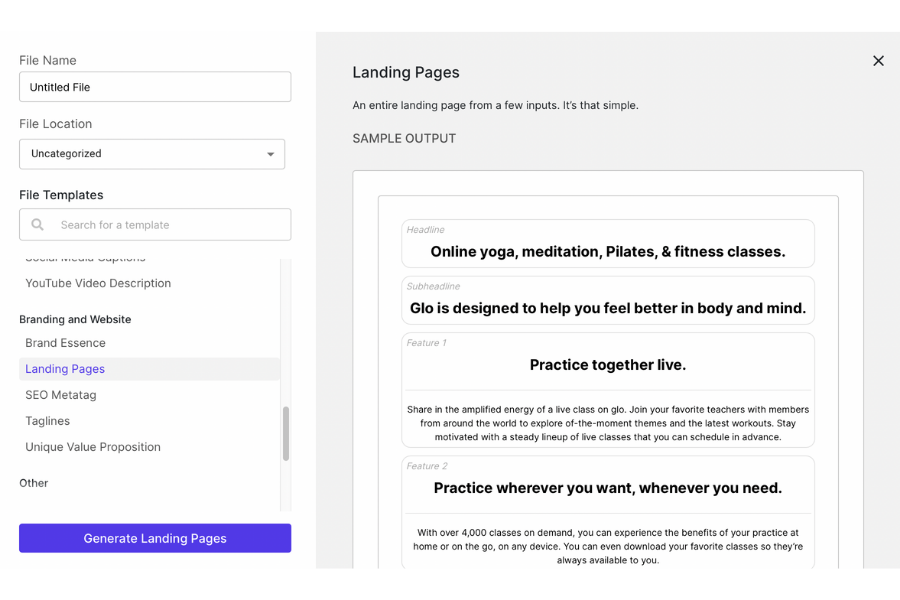 Copysmith is another AI copywriting tool that I recommend for marketing agencies and ecommerce entrepreneurs. It comes with all the templates required for branding and website copy, and also has integration with Shopify and Google Ads.
Outranking.io
Outranking.io is an AI copywriting tool that I recommend for anyone who is serious about SEO optimised content. It offers a number of features that Copy ai doesn't, like SEO Content Editor which has keyword optimisation features and SERP analysis for domain authority and backlink information.
Frequently Asked Questions about Copy Ai
Is Copy Ai free?
Copy ai offers a free plan with limited credits. The pro plan is $35/month and includes all features.